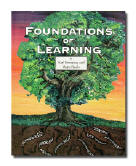 Building the Best Foundation
We're reworking one of our most fundamental and valuable texts to make it more responsive to the needs of students and faculty. Foundations of Learning is often used in foundational courses, orientations and first-year seminar courses to help students make a successful transition to college and to set the stage for their development into lifelong learners. Foundations of Learning (FOL) is based on the premise that all students have the ability to improve how they learn. It is more than a study skills text. It helps students develop skills in many different domains, so that they equip themselves to be successful not only in school, but in life.
Recently many of our new clients have recognized the need for this text, and this renewed interest and impetus gives us the opportunity and the resources to revisit the design of it and retool FOL from the ground up. Pacific Crest has assembled an advisory board to help us assess the current edition of the text, analyze the needs of our readers, and determine changes or additions that will best serve the students and faculty who will use it. By selecting both users and non-users of the current edition to sit on this advisory board, Pacific Crest hopes to better meet the needs of diverse student populations.
Core topics for the new
edition of FOL will include

Teamwork
Active Learning
The Learning Process
Information Processing Methodologies
The Role of a Student
Assessment vs. Evaluation
Time Management
Listening, Speaking, Thinking, Writing & Reading Skills
Learning Skills
Our FOL Advisory Board currently has five designing women and two men: Dr. Bertha Minus (University of Washington, DC), Cynthia Van Geison (Baker College), Naomi Wright (New Jersey City University), Lisa Putnam Cole (Heartland Community College), Pat Hare (Brevard Community College), Ron Kovach (Purdue Calumet), and Cy Leise (Bellevue University). Their ideas and suggestions will be turned over to FOL's original editors, Karl Krumsieg and Marie Baehr.
At this point, the board has decided that there will be several overriding themes for the new edition (projected for pre-release in early 2007) which include life vision, learning skills, and the integration of technology. The new edition will be based on the original Foundations of Learning book, and blend corresponding activities, the Life Assessment Journal, and Life Vision Portfolio into one single resource that will be available in different formats. Additional topics and activities will be available on CD-ROM.
Plans are to use advisory boards to improve the quality of several of our other student publications, including Basic Math and Elementary Algebra.
There are many other suggestions for the new edition, but we will keep those under wraps for the time being.